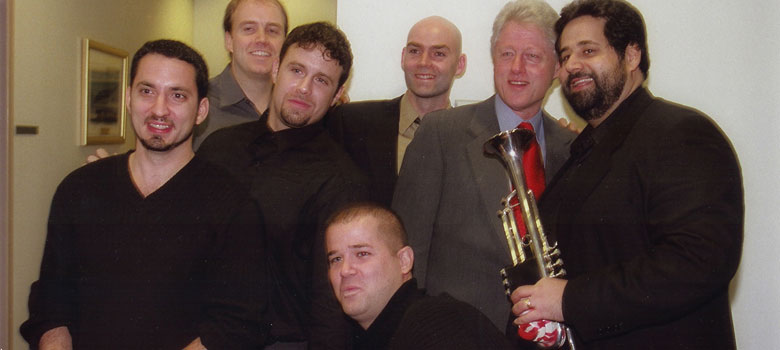 "This band made our event. It was a fundraising cocktail party on the Cape for the Falmouth Historical Society attended by 300 people. Let me say that Solon Z and his orchestra were the best entertainment I have seen at a private party. Everyone danced…all ages! He was easy to deal with and they were incredible. You must check them out!!!" – Kelly, Event Planner
Give your staff, donors and guests an experience that truly lets them forget about work and the chaos of life for a night. With elegant dinner music, uplifting cocktail tunes and high energy jazz standards and pop songs that get feet on the dance floor, Solon Z. & The Sapphires will keep your guests entertained until the last bite.
Dinner to Dance Floor
Entertain your attendees in style with quality, live music from the moment they step through the door until the final minutes when they're wishing they didn't have to leave. Set the mood with subtle, upbeat sounds performed by our jazz group during the cocktail or social hour. Create a relaxing atmosphere for dinner with elegant instrumentals performed by our string quartet or familiar jazz ballads sung by a vocalist. Then, kick your party into high gear with our high energy 24-piece big band that will have your guests filling the dance floor and singing along. It's a night your attendees will never forget and the kind of experience that can strengthen your organization's culture for years to come. We can also accommodate a smaller venue with our more modest 13-piece and 9-piece big band alternatives Investment starts at $3599
Inquire Now
Wine & Dine
Planning a special corporate meeting or fundraising event with dinner and cocktails? Let us create a background of soothing or uplifting music that keeps smiles on faces and puts your guests in a cheerful, giving and creative mood. With a range of flexible options from a string quartet to 3-4 piece jazz bands with or without a seasoned vocalist, you can customize an evening of entertainment that's a perfect fit for your event. Investment starts at $1099
Inquire Now
Custom Themes
Have a theme in mind for your party? We'll work with you to custom design a set list that compliments your theme or compliments your message. We'll help you select songs and music that fit the event and, if desired, can even arrange special requests just for you.
Inquire Now
Other Entertainment Options & Event Services
Our expansive orchestra affords us the flexibility to give you the custom entertainment package you need to throw an unforgettable event. Here are our most popular ensembles:
Premier 24-piece big band orchestra performing standards, swing, pop, soul & more
Classic 13-piece big band orchestra performing standards, swing, pop, soul & more
Basic 9-piece band performing swing standards, pop and soul classics
Contemporary 6 to 8-piece band specializing in pop and top hits
Modest 5-6 piece band performing pop and soul standards
Sophisticated 3-4 piece jazz group performing instrumental cocktail or dinner music
Elegant string quartet performing wedding ceremony music or cocktail and dinner music
Professional Emcee & DJ performing either in between live band sets or as stand alone entertainment
Photographer & Videographer to capture your event and remember why it was the most talked about of the decade
Learn more about our various ensembles and which types of events they accommodate best.
Testimonials
I attended a wedding an year ago, and the moment I've heard this big band orchestra performed, I knew that that's what I want for my wedding! They performed during the ceremony, and the cocktail hour music of Frank Sinatra, Bobby Darin and Elvis, and they were amazing! They are a 21 piece big band that performs, and entertaining the guests in such a beautiful way, and such a class. My only regret is that I couldn't hear it myself this time because it was all going on before I walled down the aisle. Amazing and highly recommend this band. They made our wedding so special just like I always wanted!

These guys are the best! Great entertainment real good at working the crowd. A lot of fun.

The band was very professional and all of the guests were entertained.

Solon and his his band were amazing! Could not have been happier. I would hire them again and I highly recommend them! They made the night amazing, they exactly what we were looking for and more!!