The Best Wedding Bands for Hire in Boston, Massachusetts
The Best Wedding Bands for Hire in Boston, Massachusetts
Showcase the same musicians at your own exclusive event that have headlined for President Clinton, the United Nations and the local Harpoon Brewery Festivals. Solon Z and the Sapphires are Boston's premier wedding band and corporate event entertainment. Our talented musicians and vocalists have over 50 years of collective experience performing straight big band, jazz, opera, funk, disco, pop, top 40 and a mix of it all. We provide live music entertainment for weddings, special events, corporate functions, fundraisers and holiday parties from Boston to Providence, Newport to Cape Cod, and Martha's Vineyard to Nantucket.
We understand that the entertainment can make or break your event, which is why our #1 mission is to make your event the most talked about of the decade. Explore our various bands and ensembles below or contact us to create your own custom entertainment package from our roster of over 128 professionally trained, working musicians (All Berklee School of Music Alumni) that will entertain your guests. Our musicians are regular performers in the Boston Symphony Orchestra, on Broadway, and touring session musicians for the biggest names in the entertainment world. This is why we can confidently say that we have the best wedding bands for hire in all of Boston, Newport, Cape Cod, Martha's Vineyard and Nantucket!
Solon Z and the Sapphires: Your Luxury Wedding Reception Band of Choice
When it comes to a high-class premium wedding reception, all your wedding details such as the choice of flowers, the lighting, and the venue should reflect your style – and reception music is not an exception. Whether you're booking a luxurious 24-piece big band orchestra, an instrumental 3 or 4-piece jazz ensemble, or an elegant string quartet, you cannot go wrong with Solon Z and the Sapphires.
Cap off the Wedding in Style
Do you want an unforgettable luxury wedding experience? Of course, everyone wants their wedding to be special from the ceremony, the first dance, to the final notes of the evening. But let's be honest, hours of sitting down eating or standing around drinking can take their toll on the guests and main couple. That is why you need the best wedding band to re-energize the crowd during your reception and keep the party going. For this, you'll want to hire one of the most talented, professional, and experienced wedding reception bands in Boston, Solon Z, and the Sapphires.
Solon Z and the Sapphires in a Nutshell
Who exactly are Solon Z and the Sapphires? Why are they the best match for your luxury wedding reception? The professional band has all the answers when you desperately need an electrifying performance after sipping champagne for hours. Solon Z and the Sapphires will serenade you from the wedding venue to the reception with their high energy soul tunes or classic big band swing songs by music legends such as Frank Sinatra and Bobby Darin. The same way your tailor gave you a wide variety of wedding gowns to choose from, Solon Z and the Sapphires strive to offer you options for your reception music as well. Their songbook is highly versatile and extensive to meet your unique style and audience. Do you like Opera, Soul, Motown, Pop, or Jazz music? Solon Z is your luxury wedding reception band of choice – they can even mix all these genres for an uplifting experience.
Solon Z and the Sapphires are highly regarded for their impressive ability to bring back the familiar sounds of Sinatra, Motown, and Elvis. Their exceptional talent has enabled the wedding band to perform in hundreds of shows for thousands of satisfied audiences. The client base of the Boston-based band includes performances for the United Nations, former U.S. President Clinton, and headlining several of the Harpoon Brewery Festivals.
"I could not have asked for a more professional orchestra and band leader to work with. They were classy from start to finish, and worth every penny. Solon Z and the Sapphires have a wonderful sound, and the guests were having too much fun to let them leave on time. 🙂 They dressed up nicely and looked the part, and they played the part to perfection! They were very easy to work with and they made my wedding reception unforgettable! We had several people ask for their card, so I am sure they are staying busy. :)"
It may not be possible to invite Frank Sinatra or Elvis Presley to your wedding reception, but Solon Z and the Sapphires come closer than anyone else to channeling the musical magic of these and other music legends.
Best Wedding Band in Boston – Solon Z and the Sapphires
Do you want to keep your wedding guests entertained and tapping their feet? Or better yet, do you want people to rave about your wedding years later? Find the right groove with the best Boston wedding band in Boston, Solon Z and the Sapphires.
A wedding is a landmark event in every couple's life. This is a day that has to be carefully planned to create a memorable experience for the family and their guests. And what is more important than the music and stage performance of the wedding reception? Well, aside from the bride's gown and the food. The music dictates the atmosphere and mood of your wedding entertainment. The same way you could never compromise on the wedding gown, you should never settle for a wedding band that is less than the best. It's a make-or-break decision! Here's why Solon Z and the Sapphires are your best musical bet for a wedding band performing in Boston, Newport, Cape Cod or Monaco:
Wedding Entertainment: The Whole Package
The wedding day is all about commitment, love, and celebrating the union of two people. It is important to remember that wedding entertainment is not all about the music notes. How is the stage performance? Is the music relevant to the audience? Does the wedding band engage the audience? Fantastic wedding entertainment creates a beautiful ambiance that will ensure the attending guest are glad they came.
Solon Z and the Sapphires offer live performances by the best musicians and vocalists in Boston. Led by a music composer, stand-up comedian, writer, and talented impersonator, this band guarantees an engaging experience. Do you want the laid back and romantic music from Frank Sinatra, the American heartthrob of the 20th century? Or do you prefer power singing styles from music legends such as Elvis Presley for your reception party? Whatever your choice, Solon Z and the Sapphires promise to deliver "high energy soul tunes and channel the spirit of music legends into getting the party going." Their range of music prowess ranges from top 40, pop, disco, funk, opera, jazz, to straight big band. Did we mention that they have professionally trained string players and a quartet?
The Boston wedding band is available for wedding events in Boston, Nantucket, Martha's Vineyard, Cape Cod, Newport, and Providence. Standard packages include Premier 24-Piece Big Band Orchestra, Classic 13-Piece Big Band, Basic 9-Piece Swing Band, Contemporary 6 to 8-Piece Pop Band, Standard 5 or 6-Piece Jazz Band, Instrumental 3 or 4-Piece Jazz Ensemble, Elegant String Quartet, Professional DJ & Emcee, and Photographer & Videographer services.
Do you need extra string players, horn players, or vocalists? No problem, the best wedding band in Boston is flexible enough to offer a custom ensemble to match your budget, preferred music, and event. Solon Z is also the creative director in charge of auditioning all musical talent, most of whom are alumni of Berklee and Boston Conservatory. Make your wedding the talk of the town with Solon Z and the Sapphires – the best Boston wedding band and music agency in Boston!
Luxury Wedding in Monaco – The Best Monte Carlo Band
A wedding in Monte Carlo is the pinnacle of glamour and luxury. The principality of Monaco is the top choice for anyone with an appetite for an exclusive service. It is the ideal way to give yourself, your family, and your guests a weekend away to proclaim your undying love to the significant other. What makes Monte Carlo weddings the best high-class events in the world? Three words; location, venue, and rich history.
Although Monaco is among the smallest countries in the world, it is strategically located on the stunning French Riviera and home to the world's wealthiest people. It is easily accessible from the Nice International Airport, which is just 24 kilometers away. You don't have to worry about your guests running late due to traveling for long distances during the Big Day. Additionally, Monte Carlo has a moderate climate all year round, guaranteeing conducive weather even during winter. What's better than having the freedom to choose the venue best matched for Monte Carlo weddings at your own convenience?
Monte Carlo is home to a beautiful harbor, high-end stores, famous luxury restaurants and hotels, and a spectacular landscape among other venues to make your luxury wedding in Monaco a success. Your guest can comfortably stay and rest at prestigious hotels such as Le Meridien, Fairmont, Hermitage, and Hotel de Paris. The glamorous and luxurious venues have attracted international events, celebrities, and affluent members of society including the fairy tale wedding of Monaco's Prince Rainier and Grace Kelly. In a nutshell, Monte Carlo is undoubtedly one of the most prestigious locations for a wedding in the world.
If you are based in the United States or any other nation, the prospect of holding a wedding abroad might be overwhelming. With the challenges associated in finding a luxury wedding planner, a venue, and caterers in a foreign nation, we aim to lift the burden of finding the best quality Monte Carlo band for your reception.
The Best Band for a Wedding in Monte Carlo
Hiring high-class wedding reception entertainment for events held here in Monaco and Monte Carlo is a straightforward task – if you take our expert advice. To complement the exclusive and luxurious 'persona' of Monaco, you need a Monte Carlo band that is just as glamorous. If so, you must choose the highest quality entertainment, which is Solon Z and the Sapphires. But why is Solon Z and the Sapphires the best choice for a wedding in Monaco?
The Boston-based wedding band is renowned for their classy yet entertaining performances. They are as refined and elegant as the principality of Monaco. They have performed in prestigious events for the United Nations, and President Clinton. Based on the level of magnificence your desire; you can choose as elaborate as a 28-piece big band orchestra down to up to a 9-piece band that performs a mix of everything from Sinatra to Van Morrison and Elvis.
The Big Day is meant to be glamorous and supreme enough to bring beautiful lifelong memories and emotions. Write your love story and make your Monte Carlo wedding the most talked about event among your guests – just as American jazz pianist, Stan Kenton, and bandleader Lester Lanin and his orchestra performed Prince Rainier III and Grace Kelly's wedding decades earlier. Hire American bandleader Solon Z and his Monte Carlo band to make your wedding in Monaco a picture of class and the memory of a lifetime!
Premier 24-Piece Big Band Orchestra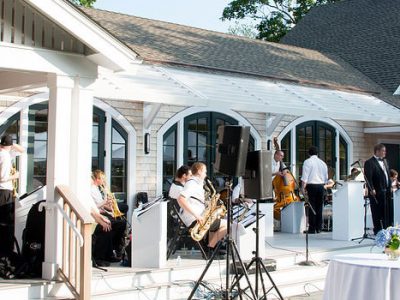 Our 24 piece big band orchestra is adaptable to many different settings, expanding or reducing the line-up as needed to fit any stage, venue or mood. Our songbook is extensive and versatile, featuring everything from the colorful vibes of American Songbook Jazz, Swing, Pop, Motown and Soul to Broadway classics, Opera and more. We will coordinate a collection of music for your event that best fits your theme, audience and tastes.
Our premier big band features a 13-horn section, string quartet, drums, bass, guitar, keyboard and 3 vocalists. The breadth of instruments encompassing our group allows us to create a rich entertainment experience that makes your guests feel part of the action and fills your venue with concert-quality sound. Our flagship band offers the maximum flexibility to create various sized ensembles for each phase of the event, such as ceremony (for weddings), cocktail or social hours, dinner, reception and dancing. Designed for weddings, corporate functions, fundraisers, holiday parties and special events.
Classic 13-Piece Big Band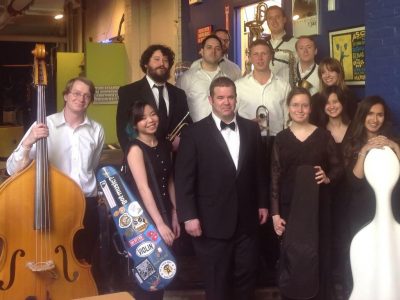 Comprised of a 4-horn section, string quartet, drums, bass, guitar, keyboard and 1 vocalist, our 13-piece band performs the same music as our premier orchestra, and is a better fit for venues with size limitations. Our 13-piece group can entertain your guests from ceremony to cocktails, dinner to dancing. Perfect for weddings, corporate functions, fundraisers, holiday parties and special events.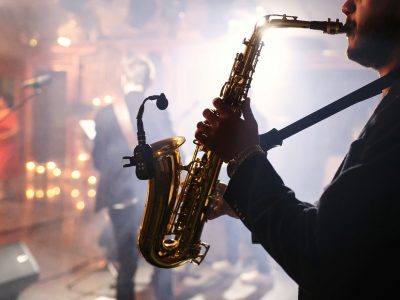 Made up of a 4-horn section, drums, bass, guitar, keyboard and 1 vocalist, our 9-piece band performs the same music as our premier orchestra as well as pop and soul classics, and is a better fit for venues with size limitations or slightly smaller events. Our 9-piece group can entertain your guests from ceremony to cocktails, dinner to dancing. Works well for weddings, corporate functions, fundraisers, holiday parties and special events.
Contemporary 6 to 8-Piece Pop Band
Specializing in today and yesterday's top hits and pop music, our modern pop band is designed to get your guests out of their seats and onto the dance floor. Their versatile pop repertoire of current hits and blasts from the past will have guests of all ages bursting with energy as they shuffle their feet or sing along to their favorite tunes. Designed for weddings, corporate functions, fundraisers, holiday parties and special events.
Standard 5 Piece Jazz Band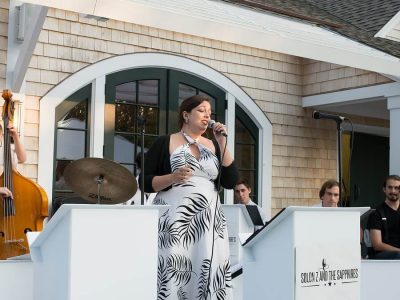 Performing either jazz standards, pop songs or a mix of both, our jazz band is an excellent option for weddings and special events needing a more modest sized ensemble. Includes drums, bass, guitar, keyboard, (saxophone) and vocalist. Accommodates weddings, corporate functions, fundraisers, holiday parties and special events.
Instrumental 3 or 4-Piece Jazz Ensemble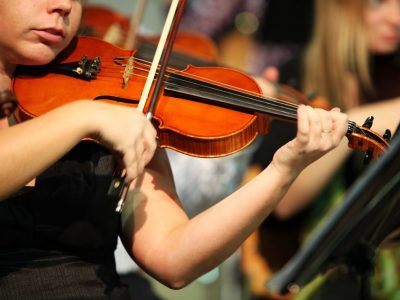 Built to provide ambiance for dinners and cocktail hours, our jazz ensemble will set the mood and create a sophisticated atmosphere for dining and socializing.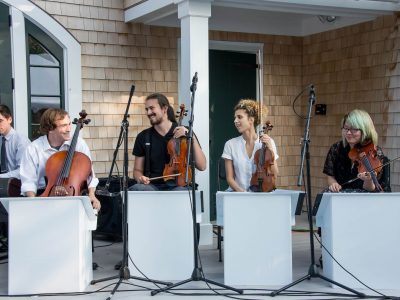 Ideal for wedding ceremonies, cocktail hours and dinners, our string quartet will bring an air of romance and sophistication to your event. From classical melodies to wedding songs and more, your guests will love being surrounded by the melodic music of our string quartet.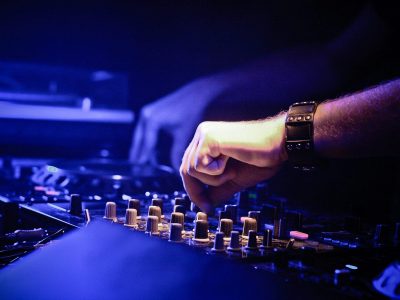 While most may agree that nothing beats the experience of live music, some events call for a DJ. That's why any of our entertainment packages can be customized to include a professional DJ who can emcee your event, take requests and play the songs your guests love. Our DJs are the finest professionals in the Boston area, in keeping with our high standards of service and performance.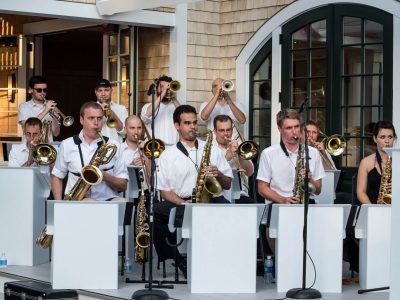 We're flexible. Need extra vocalists, horn players or string players to enhance your entertainment package? Let us know! We'll customize an ensemble that works best for your event, budget and preferred type of music.
Photographer & Videographer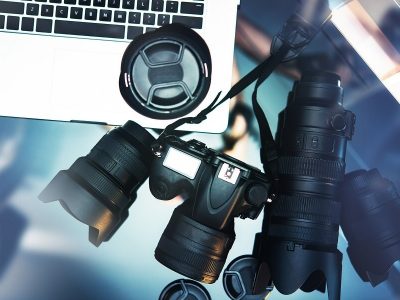 Want evidence of why your event was the most talked about of the decade? Capture it all on film with our photography and videography services. Our professionals will be unobtrusive flies on the wall throughout your event, documenting everything from the milestones of the day and the intimate moments between friends to the packed dance floor that has guests from 9 to 90 tearing it up.
Book Solon Z and the Sapphires for Your Event